Learn How Plaque And Gum Disease Relate To Older Adults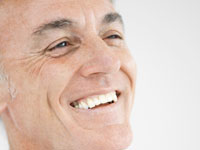 The proverbial way of referring to older people as being "long on the tooth" suggests that it is predetermined that as we get older our teeth get "longer" or "no longer." This is not true.
Periodontal disease, plaque and loss of teeth is not an inevitable aspect of aging. Loss of attachment or bone support around a tooth is the result of a bacterial infection. What is true is that as we get older, we have more exposures to these infectious organisms, and more probability of being infected and developing periodontal disease. Half of the people over 55 have periodontal disease.
Risk factors that make older adults more susceptible to periodontal disease include:
Systemic diseases: Certain systemic diseases such as diabetes may decrease the body's ability to fight infection and can result in more severe periodontal disease. Osteoporosis also can increase the amount and rate of bone loss around teeth. Systemic illnesses will affect periodontal disease if it is a pre-existing condition. To reduce the effects of systemic diseases on the oral cavity, maintain meticulous plaque control and visit your dental care provider routinely for examinations and professional cleanings.
Medications: Heart medications can have a direct effect on the gums by creating an exaggerated response to plaque and resulting in gum overgrowth. Antidepressants may create dry mouth and reduce the saliva's ability to neutralize plaque.
Immunosuppressants and other disease-fighting medications may reduce the body's ability to combat infection, increasing the risk for periodontal disease. The dental care provider needs to be aware of any medications you may be taking and you need to maintain meticulous plaque control and visit your dental care provider routinely for examinations and professional cleanings.
Dry mouth: Lack of saliva can result from the use of certain medications or as a result of illness. If there is not enough saliva available to neutralize plaque it can result in more cavities and periodontal disease.
Also, dry mouth, or xerostomia, can make dentures more difficult to wear and may also complicate eating, speaking, or swallowing of food. Oral rinses or artificial saliva can be very helpful with these problems.
Frequent sips of water or eating candy may be helpful as long as it doesn't contain sugar. Fluoride rinses and gels are helpful in reducing or preventing the cavities that can be caused by having a dry mouth.
Dexterity problems: Physical disabilities can reduce dexterity and the ability to remove plaque on a daily basis. Poor oral hygiene can increase the risk for cavities and periodontal disease.
Electric toothbrushes and floss holders are helpful in improving plaque control. Frequent professional cleanings combined with oral anti-microbial or fluoride rinses also may be helpful in reducing the incidence of cavities and periodontal disease.
Estrogen deficiency: Older women may have some special concerns in relation to periodontal disease. Scientific studies have suggested that the estrogen deficiency that occurs after menopause may increase the risk for severe periodontal disease and tooth loss. Estrogen replacement therapy may reverse these effects.
It is important to keep teeth as we age because every tooth has an important function in chewing and speaking. They affect our appearance and self esteem.
Having dentures or loose or missing teeth can restrict our diets, resulting in poor nutrition and systemic complications. With the advances in modern dentistry and with current prevention and treatment techniques, we must count on keeping our teeth for a lifetime -- no matter how "long" that may be!
Find a Dentist To Evaluate Your Risk Factors For Oral Cancer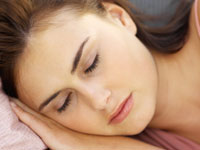 Oral and oropharyngeal cancers are malignancies that include the lips, tongue, lining of the cheeks (buccal mucosa), floor of the mouth, gum (gingiva), the area behind the lower wisdom teeth (retromolar trigone), the roof of the mouth (hard and soft palates), the back of mouth and throat (oropharynx), and the sides of the throat (tonsil areas).
Oral and oropharyngeal cancers are most often diagnosed in older adults (average age at diagnosis is between 60 and 63), with over 95% of the oral cancer cases occurring after the age of 45. Men are diagnosed with oral and oropharyngeal cancer twice as often as women. Over the past several decades, the overall number of oral and oropharyngeal cancers has not changed; however, the number of men being diagnosed with the disease is decreasing and the number of women with the disease is increasing.
All forms of tobacco and excessive use of alcohol have been identified as major risks factors for oral and oropharyngeal cancers, and are suspected to account for 75% of all oral and oropharyngeal cancers in the United States. Sun exposure is a risk factor for lip cancer, while smokeless (snuff or spit) tobacco increases the risk for cancers inside the lips and cheek. Other risk factors for oral and oropharyngeal cancer are vitamin A deficiency and Plummer-Vinson Syndrome (a very rare iron deficiency).
The American Cancer Society estimates that 7,800 people will die because of oral or oropharyngeal cancer in the year 2000. Overall, people surviving five years after a diagnosis of oral and oropharyngeal cancer have shown little improvement; half of the people diagnosed with this disease survive five years. Deaths due to oral and oropharyngeal cancer vary greatly with the stage (spread) of the cancer at diagnosis. Oral and oropharyngeal cancers that are detected and treated early, and are localized, have greatly improved survival compared to those that have spread.
Early localized oral and pharyngeal cancers often are not bothersome and therefore go undetected until the cancer has spread. About half of oral and oropharyngeal cancers have spread to the lymph nodes (spread to the neck) at the time of diagnosis or treatment. Three sites within the mouth are high-risk for the development of oral and oropharyngeal cancer: the floor of the mouth, the sides of the tongue, and the soft palate complex (soft palate, inside the retromolar trigone, and tonsil area).
Detection of an oral and oropharyngeal cancer also identifies an individual who is at high risk for developing or having a cancer of the respiratory system and upper digestive tract (larynx, lung, and esophagus).
Warning signs and symptoms of oral and oropharyngeal cancer:
A mouth sore that does not heal
A lump or thickened mass in mouth or neck
A red or white patch in mouth
A sore throat or feeling that something is caught
Voice change
Difficulty chewing or swallowing
Difficulty moving the jaw or tongue
Numbness
Swelling
Loosening of teeth
Weight loss
Pain may not be present with early oral and oropharyngeal lesions. Traumatic oral lesions will resolve or greatly improve after the cause of the trauma is removed (such as a sharp tooth or denture). A biopsy, to rule out or confirm a malignancy, is indicated if an oral lesion persists after two weeks. A dentist and/or physician should evaluate all suspicious lesions.
By Denise J. Fedele, DMD, MS