Everything You Need To Know About Dental Crowns For Your Teeth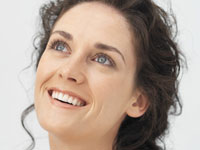 The crown serves two important functions. First, it restores the appearance of your teeth and your face. If your tooth is severely decayed or cracked, the dentist will need to restore it prior to preparing a cap. Teeth also support the muscles in our faces, so anything less than a full tooth may affect the way you look.
Second, a crown will be the same size and shape as the natural tooth. As a result, it will keep your jaw and bite aligned; it will also make sure that other teeth don't shift locations or take on a greater share of the work of biting and chewing.
What Are Dental Crowns Made of?
Crowns are most often made of gold or porcelain. Crowns also can be made of stainless steel, but those crowns are often temporary and not designed for long-term wear.
Porcelain crowns usually are built on a metal base, which fits snugly over the natural tooth. Your dentist will choose a porcelain that matches the color of your natural teeth. Porcelain crowns usually are so carefully matched in color, they cannot be distinguished from your natural teeth. Many people choose porcelain crowns for the cosmetic appearance and the confidence it gives them.
New materials are now available that allow the use of "all-ceramic" crowns in some cases. They have a beautiful life-like appearance and short-term studies support their success, with long-term trials ongoing.
Crowns also can be made of all gold. Some people prefer not to use gold because it stands out from the other teeth in appearance. At the same time, if the crown is on a back molar, some people feel the cosmetic issue is not a big one. Your dentist will discuss the types of materials available if a crown is recommended.
An Ounce of Prevention Is Still the Rule!
Once your crown is in place, make sure the area is brushed well and that you floss below the gum line. While the crown protects your remaining tooth from further decay, you must protect the base of the crown from bacterial growth and gum disease. Regular brushing and flossing as you would your natural teeth will ensure that your crown will be in place for years to come!
By Danine M. Fresch, DDS
Dental Care And A New Diagnostic Tool For Mouth Cancer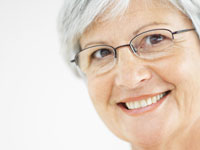 According to the American Cancer Society, about 30,000 new cases of mouth cancer are diagnosed annually in the U.S. About half of those who have oral cancer die within five years. Early detection can make a dramatic difference in treating the cancer at curable stages and reducing oral cancer deaths.
Early detection capabilities recently have been enhanced by a new computer-assisted mouth cancer screening tool. A nationwide study of 945 patients ranging in ages from 18 to 83 was conducted by dentists at 35 U.S. academic dental care sites.
Brush biopsy specimens were obtained from oral lesions as part of the extensive research, testing the accuracy of computer-assisted diagnostic equipment. The brush biopsy caused little or no bleeding and no anesthetic was required. The computer-assisted image analysis was used to identify suspicious cells in the samples.
The computer analysis properly identified every case of pre-cancerous and cancerous lesions as confirmed by lab tests from their traditional tissue evaluations. Additionally, it also correctly identified some lesions that were benign in appearance, but were actually found to be pre-cancerous or cancerous. Had it not been for this new diagnostic equipment, these lesions would have escaped detection and the patient would not have received any additional oral cancer testing.
"Early evaluation of oral pre-cancerous lesions can have a dramatic impact on oral cancer mortality rates," says Dr. James J. Sciubba, DMD, PhD, professor of Oral and Maxillofacial Pathology at State University of New York at Stony Brook, who also serves as a spokesperson for the study. Early-stage mouth cancers are not easily detectable by visual inspection and may be overlooked.
The oral cancer scanner provides dentists a new evaluation tool that can lead to a significant reduction in cancer deaths. An estimated 8,100 people will die from mouth cancer this year. This new dentistry tool has shown remarkable merit as a reliable dental health device. By providing an accurate diagnosis, it has become a crucial weapon in the fight against oral cancer.
By Brian J. Gray, DDS, MAGD, FICO