FAQs on Dental Implants, Wisdom Teeth and Sealants for Children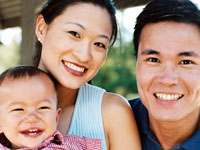 Q. How does one care for primary teeth?
A. As soon as the first tooth erupts, primary teeth may be cleaned with a clean, wet wash cloth or wet gauze. The gums should also be gently wiped. If a toothbrush is used, it should be an appropriate size.
Q. Where does decay on the primary teeth occur most often?
A. With inappropriate or prolonged use of the baby bottle, decay may occur on the upper front teeth (incisors). The second most-often occurring site are the upper primary molars, which are found furthest back in the mouth. If there is no spacing between the primary teeth, there is a much greater chance of decay between the primary molars. These teeth should be flossed as soon as they come in.
Q. Why are dental sealants beneficial for children?
A. Dental sealants are applied by your dentist as protective coatings for the chewing surface of permanent molars. They protect the teeth from decay. Read on for more information.
Q. What is a dental implant?
A. A dental implant is a permanent artificial tooth replacement.
Q. What is the procedure for receiving dental implants?
A. Dental implants are inserted surgically in two steps. The first step is to insert a "post" into or onto the jawbone. This post will then become the "anchor" for the artificial tooth that will be placed over the "post".
Q. How long is the procedure for dental implants?
A. Getting a dental implant is a two step process. Once the "post" is inserted into the jawbone, the patient will have between three and six months with a temporary restoration. During this period, the bone and gum area around the post will heal to create a strong and healthy bond.
Once this bond is complete, an additional set of smaller posts is attached to the original post and then the artificial tooth is secured to the posts. The entire procedure could take anywhere from three to ten months.
Q. Can I eat regularly while the implants are bonding?
A. While the "post" is bonding with your jaw and gums, your dentist will place a temporary artificial tooth on the post. During the bonding period, you will need to eat soft foods.
Q. Do implants require special care?
A. Yes and No. Dental implants need to be brushed, flossed and checked regularly by a dentist, just as you would do with your regular teeth. But dental implants don't need special brushes or pastes.
Q. Can you eat and chew normally with dental implants?
A. Yes. Consider that natural teeth can absorb up to approximately 540 lbs. per square inch of biting pressure and properly placed dental implants can withstand up to approximately 450 lbs. per square inch of the same pressure.
Q. How long should a dental implant last?
A. With proper placement, excellent home care, regular dental visits, and good overall health, dental implants should be permanent.
Q. What are wisdom teeth?
A. Wisdom teeth are the third molars.
Q. Why is it necessary to remove wisdom teeth?
A. It is necessary to remove wisdom teeth to avoid problems, such as an impacted tooth destroying the second molar.
Q. Why do wisdom teeth cause problems?
A. Wisdom teeth generate problems because the shape of the modern human mouth is too small to accommodate these teeth, and they become impacted or unable to come in or move into their proper place.
Q. What problems occur from impacted third molars?
A. Partially erupted wisdom teeth are breeding grounds for bacteria and germs that may cause infection. Cysts and tumors may grow on trapped wisdom teeth.
Q. How is a wisdom tooth removed?
A. Wisdom teeth are removed by surgery. The gum tissue over the tooth is removed, the connective tissue is stripped gently away from the tooth and bone, the tooth is removed, and the gum sutured.
Q. When are lasers used in dentistry?
A. Lasers are used in oral surgery, gum surgery, tooth whitening, cancer sore treatment, and the treatment of gums that have been diseased.
Healthy Eating For Good Oral Health Can Stop Tooth Decay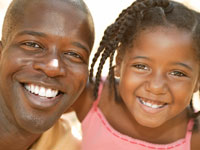 What you eat affects your health destiny. You can dramatically impact your dental health by eating a well-balanced, healthful diet. Research has shown that poor nutrition jeopardizes our oral health, which puts you at risk for a number of serious dental problems.
The Food Factor For Good Oral Health
Our food choices can make a big difference in two of the most common diseases today: tooth decay and gum disease. Certain foods, especially those containing sugar, are directly linked to increased levels of cavity-causing bacteria.
Tooth decay results when acids from the bacteria attack the teeth forming cavities. While diet doesn't directly cause gum disease, a condition affecting the supporting tissues of the teeth, researchers believe the disease is more rapid and severe when poor nutrition is a factor. Gum disease is a serious problem, since it can lead to tooth loss if untreated.
Diet and Dental Health
The American Dietetic Association and the National Institutes of Health recommend eating a well-balanced diet including plenty of the following:
fruits
vegetables
a good variety of breads and cereals
dairy products
fish
chicken
dried beans
peas
meat
Enjoying a variety of foods is the best way to get all the important nutrients needed for keeping healthy. Beware of fad diets that exclude entire food groups. This can cause nutritional deficiencies.
Snack Smart To Avoid Tooth Decay
Snacking is a favorite pastime, but certain snack choices promote tooth decay such as soft, sweet, sticky foods. Select nutritious snacks better for your teeth and general good health, especially colorful, juicy fresh fruits and crisp, crunchy vegetables. Choose your snacks based on any other dietary concerns, such as low cholesterol, low-fat, or low sodium diets.
If you snack on crackers, cookies, or chips, it's better if you eat them in combination with other foods, such as cheese with crackers, rather than alone. This is because these foods, when eaten alone, tend to produce more bacteria in the mouth leading to tooth decay. Remember, each time you snack, oral bacteria is activated. Drink plenty of water to rinse away some of the disease-causing bacteria. If possible, brush your teeth after snacking.
Select from the wide variety of foods for healthful eating -- that are good for you and your teeth and be sure to check-in with your dentist.
By Brian J. Gray, DDS, MAGD, FICO