The Effects Of Aging And Tooth Loss On The Mouth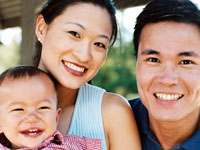 Tooth loss is not part of the normal aging process. In fact, tooth loss is declining among older adults. Aging is not a general of cause oral diseases, according to dentists and other dentistry professionals, yet oral diseases such as tooth loss are more prevalent with age due to changes in the oral soft tissues, a depression of the immune system, an increase in the number of systemic diseases, a decreased ability to perform adequate oral hygiene and self dental care secondary to stroke, arthritis, Parkinson's disease, dementia, or Alzheimer's disease, and dry mouth due to greater use of prescription and over-the-counter medications.
With age, teeth become less white and more brittle; however, oral hygiene habits and use of tobacco, coffee, and tea also will affect tooth color. Teeth also can darken or yellow due to the thickening of the underlying tooth structure (dentin). Brittle teeth tend to be susceptible to cracks, fractures, and shearing. Over the years, the enamel layer (outer tooth layer) is subjected to wear due to chewing, grinding, and ingestion of acidic foods. In severe cases, the enamel is completely worn away and the underlying dentin is worn down as well. Inside the tooth (pulp), the number of blood vessels and cells decrease and fibroses increase with age; thus, capacity to respond to trauma may also decrease.
The fiber content and number of blood vessels of the periodontal (gum) tissues decrease with age. However, periodontal disease represents a pathologic or disease change and is not due to just age. The loss of bone and gum attachment (receded gums) associated with periodontal disease is collective and therefore greater in older adults. An outcome of periodontal disease is exposed root surfaces. Exposure of the root in older people probably gave rise to the term "long in tooth". Oral hygiene practices and certain medications affect the health of gum tissue. Receded gums and exposed root surfaces put older adults at high risk for dental decay (caries) on the relatively soft root surfaces. Dental caries on root surfaces is a disease that is common among older adults. Dry mouth and a diet high in sugars and fermentable carbohydrates greatly increase the risk for root caries. Dental caries are a major cause of tooth loss in older adults.
Studies show some reduced chewing effectiveness, decreased tongue strength, and increased swallowing time with age; however, the studies do not indicate that there is any real change in the ability to swallow with age.
The number of cells that produce saliva decrease with age. However, healthy, unmedicated older adults do not have reduced saliva flow. This is because the salivary glands have a high reserve capacity. Usually when a decrease in saliva flow is noted, it is associated with medication use, illness, medical conditions, or their treatment.
The number of taste buds do not appear to change with older age; thus, the ability to taste does not change significantly with age. However, smell decreases with age. Since the ability to taste is closely related to smell, taste perception may be altered in older adults.
Soft tissues of the mouth become thinner and lose elasticity with age and promote tooth loss. Soft tissue lesions are more common in older adults. Chronic inflammation such as candidiasis (fungus growth) and denture irritation also occurs more often. Wound healing is decreased due to reduced vascularity (blood flow to the area) and immune response with age.
Oral and oropharyngeal cancer is the most serious disease associated with age. Oral and oropharyngeal cancer lesions usually are not painful. Oral and pharyngeal cancer may appear as a red or white patch, a sore or ulceration, or a lump or bump that does not heal within two weeks. Swollen lymph nodes of the neck, difficulty swallowing and speaking, and voice changes also may be signs and symptoms of oral and oropharyngeal cancer. The risk for oral and oral pharyngeal cancer increases with age, use of all forms of tobacco, frequent alcohol use, and exposure to sunlight (for lip cancer). See a dentist if any signs or symptoms of oral and pharyngeal cancer are present.
By Denise J. Fedele, DMD, MS
How Malocclusion or Bad Bite Relates To Different Dental Problems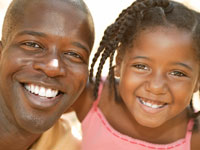 It is ironic that one of the most common dental disorders is also the most neglected, malocclusion, bad bite. The way the teeth fit together when the jaw closes and chews is of profound importance to the long-term health of your teeth.
If surfaces of the teeth interfere with how the jaw moves, the teeth can be worked loose or the enamel can be worn away this is know an malocclusion, bad bite. The muscles that move the jaw are very powerful and can do major damage to the teeth when the biting surfaces don't fit together properly.
The problem can be compounded if teeth interfere with functional muscle patterns, the jaw muscles will attempt to "erase" the part of the tooth that interferes by grinding against it all the more. This can lead to even more severe wear or it may crack off a cusp or split the tooth. Or it may loosen the tooth or cause it to move out of alignment. The excessive muscle activity often results in pain in the muscle itself. All of the jaw muscles can become sore including the temporal muscles that are the source of many so-called tension headaches.
Some excessive muscle activity may be caused by emotional stress. But with some special exceptions, damage done by stress induced grinding and clenching can be minimized to a manageable level by equalizing the biting surfaces that are in conflict with jaw movements.
The power of the jaw muscles may surprise you. Some people can exert over 900 pounds of compressive force with their jaw muscles so you can imagine how much damage such force can do when you close into a single tooth and then work it from side to side. The effect is very much like working a fence post loose as the bone around the root breaks down. If you can put your finger on any tooth in your mouth, and then squeezing your teeth together causes the tooth to move, you can be sure that it is just a matter of time before there will be a problem with that tooth.
Sometimes in malocclusion, bad bite the muscle forces that work the tooth sideways stimulates bone around the root to build up and become stronger. When that happens, the tooth actually bends in its socket and this creates a microscopic chipping away close to the gum line to form a deep groove in the tooth. This is called an abfraction. These deep grooves at the gum line are often mistaken for toothbrush abrasion, but scientists have shown us that the grooves are actually the results of bending of the tooth in its socket. These grooves can lead to much sensitivity in those teeth because the opening into the tooth exposes nerves that can be exquisitely sensitive. Correction of the bite to remove excessive lateral forces on the teeth in most instances either eliminates the sensitivity completely or reduces it to a much more acceptable level.
Patients should be aware that much confusion surrounds the importance of a harmonious bite, including many misconceptions that have been fostered by flawed research that has failed to properly relate the bite interferences to the position and condition of the temporomandibular joints. Knowledgeable clinicians, however, are very much aware of this relationship and can achieve excellent results in making both your teeth and your jaw muscles more comfortable by bringing your whole biting into harmony and avoiding malocclusion, bad bite.
By Peter E. Dawson, DDS